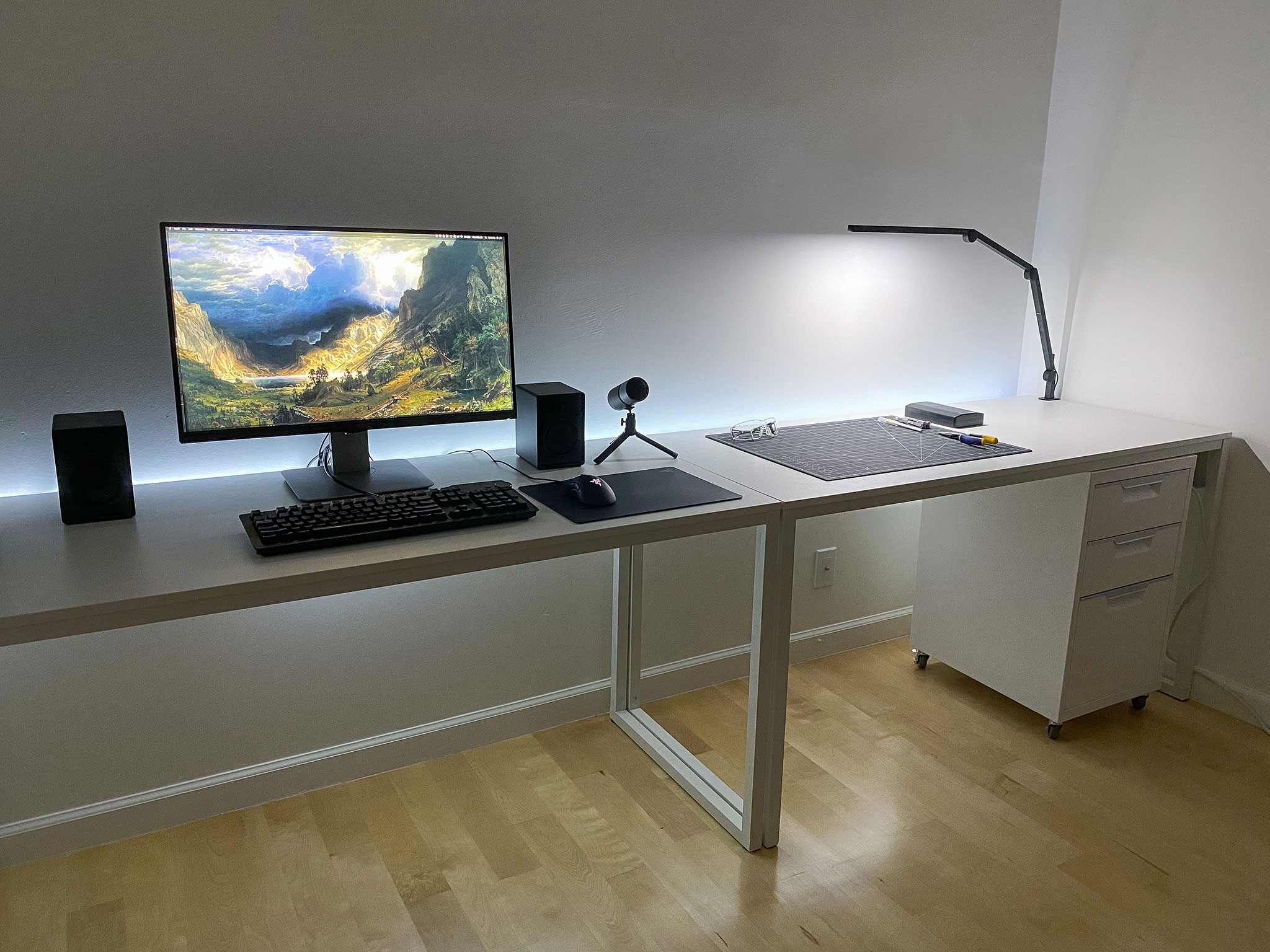 Here's a parts list of my current desk setup. This was planned to be as flexible as possible: it allows me to quickly switch between my laptop, play games on my PC, and still have enough space to work on various projects. You can find (affiliate) links for each part below.
As parts change they will be moved into a new section.
---
The Vanilla color unfortunately sells out immediately. You'll have to keep an eye out. It also has a magnetic frame, which is important for the magnetic LED strips I made.
Cable Management:
---
This rolling cabinet fits perfectly under the desk with a few millimeters of clearance. If I didn't have this cabinet already, I'd consider this one: the Devaise Locking File Cabinet.
---
I picked this LED strip because its diffused and doesn't have visible bulbs. It looks nicer, and produces a more consistent light, but the drawback is the color can't be changed like many other strips. Hopefully as these get more popular smarter versions will come out.
Attachment Parts:
---
This is a clamp-style desk lamp that attaches to the frame of a desk. It's bright enough for a work light and can change temperatures within a narrow range.
HomeKit Smart Plugs:
---
This is a new monitor I'm trying out that handles a mix of things well– from video, to programming, design, and gaming. I was previously using a Dell Ultrasharp monitor. If you're looking for something in the same "general use" cateogry as the Dell, consider the newer Dell U2719DX.
Attachment:
Wallpaper:
Previously:
---
A new prebuilt mechanical keyboard I'm still trying out. I have the model with Gateron Yellows, a popular linear switch. I was previously using a Das Keyboard Ultimate 4 with Cherry MX Blues, which served me well.
Accessories:
Previously:
---
A classic, well known wired gaming mouse. Works well and looks clean.
---
A black matte aluminum mousepad. Great material, looks clean and works well.
---
These are classic, well known computer speakers that sound great for their size. They also support USB audio, which I use to switch between my gaming PC and Mac with a KVM.
---
This is the best looking microphone I've found. It's not quite as good as my previous mic (the Blue Yeti), but it's good enough for Zoom calls and Discord while still looking really nice. It also has automatic background-noise reduction, and a few other nice features like that.
Previously:
---
Technically a self-healing cutting mat, this is a good general work surface for all kinds of projects.