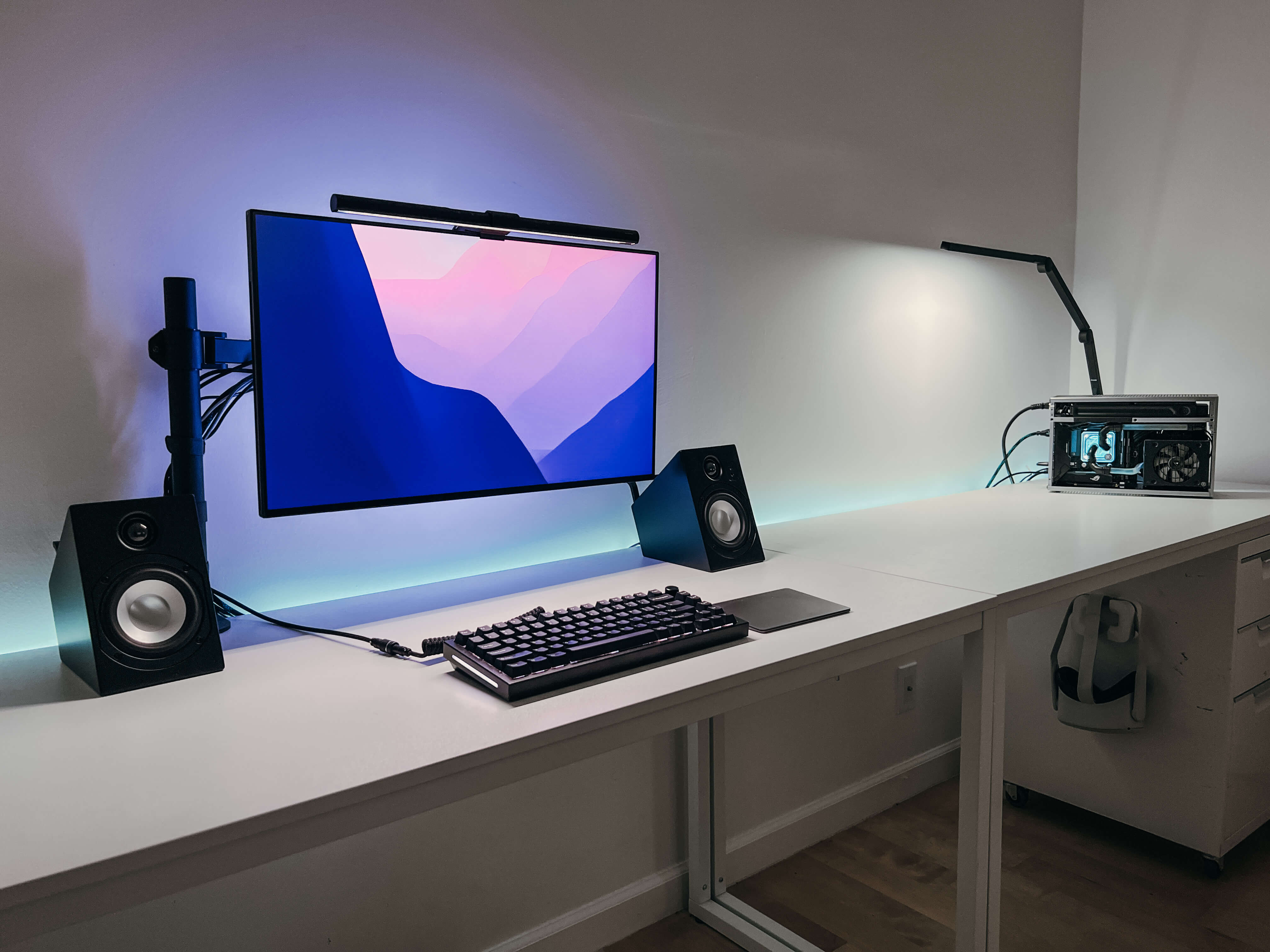 Everything on my desk in 2022, and where you can get it for yourself.
I've designed a lot of desks – I grew up on pc building forums so I think it's just part of my blood. This time around I wanted something that was impeccably clean, could be reset easily after use, and was modular enough for multiple computers (3) and the various things I do at my desk like work, filming videos, or playing games.
A lot of things were tried and scrapped on this desk: I had a laptop mounted under my desk, I had backlighting that was voice controlled. Now, in 2022 the current state of this workspace represents my current setup in its' ideal form.
Features & Parts
This is all about maximal desk space. It's two 2X Zinus Bellamy Jennifer desks side-by-side. These aren't quite as sturdy as my former Herman Miller 72" desks (go here to see a render of my old space) but they fit perfectly in this space, and worked for the customizations I wanted.
So: the goal is as few things on the desk as possible, and a long uninterrupted continous length of table. This means we're mounting everything, and keeping the center of the desk clean.
Final layout: the left side is where I generally sit to use my computer, and the right side is a workspace for projects, filming, or using my laptop. Let's hop into each section.
The Computer Side
The computer side is where I work. While it looks straightforward, the cables are all routed far away to hide the actual computing devices. This guy is connected to two different computers that I switch between: a Mac Studio and a gaming PC.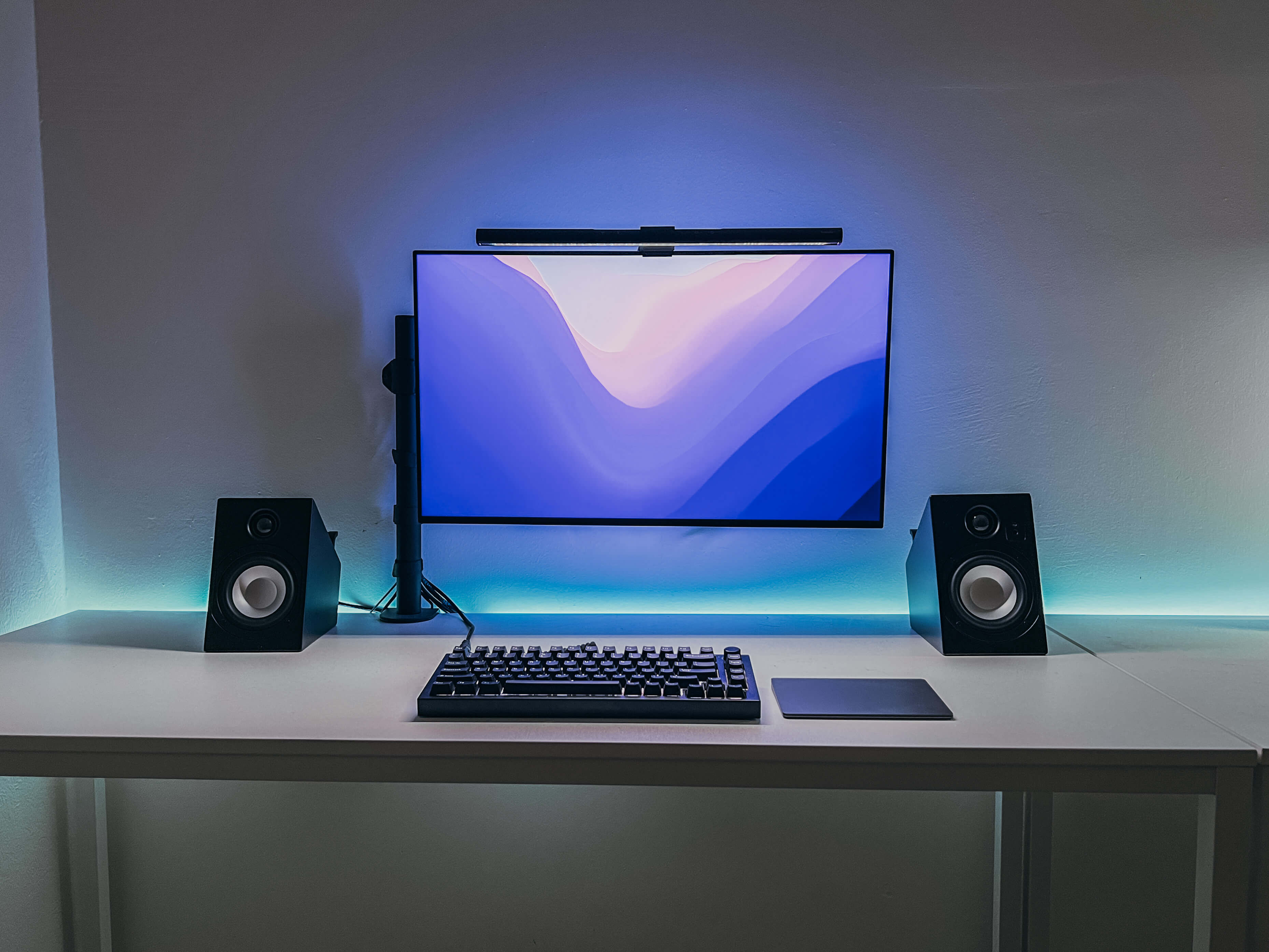 We've mounted our LG GN950 Monitor with the VIVO Monitor Mount here for as much open desk space as possible. I was reluctant to add speakers due to how clean it was without them, but I settled on the fantastic Vanatoo T0 Speakers in the end. They sound fantastic.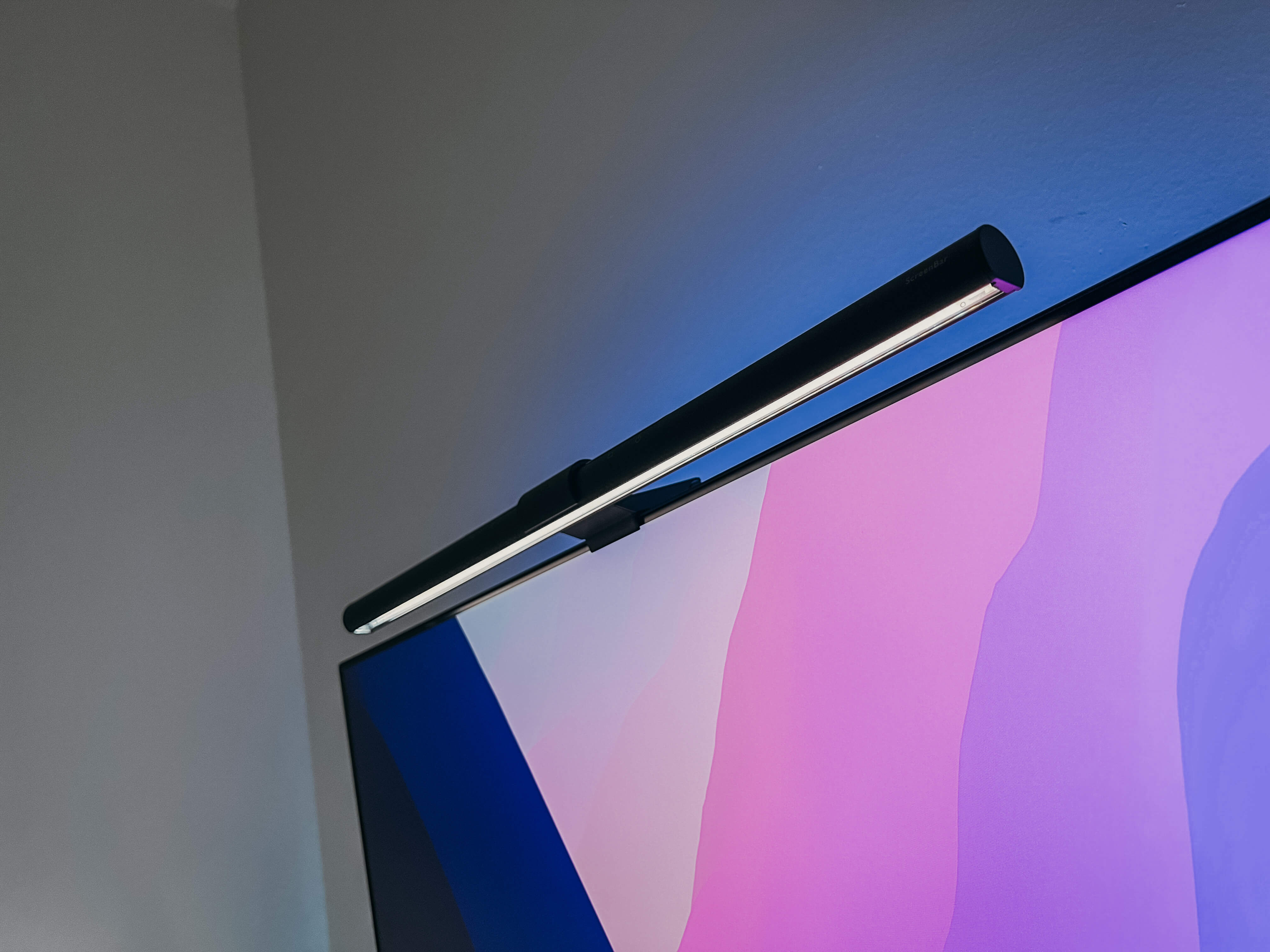 The BenQ Monitor Light has been a surprisingly nice purchase. It clips onto the top of my LG GN950 Monitor, illuminating an area of my desk that otherwise has no light.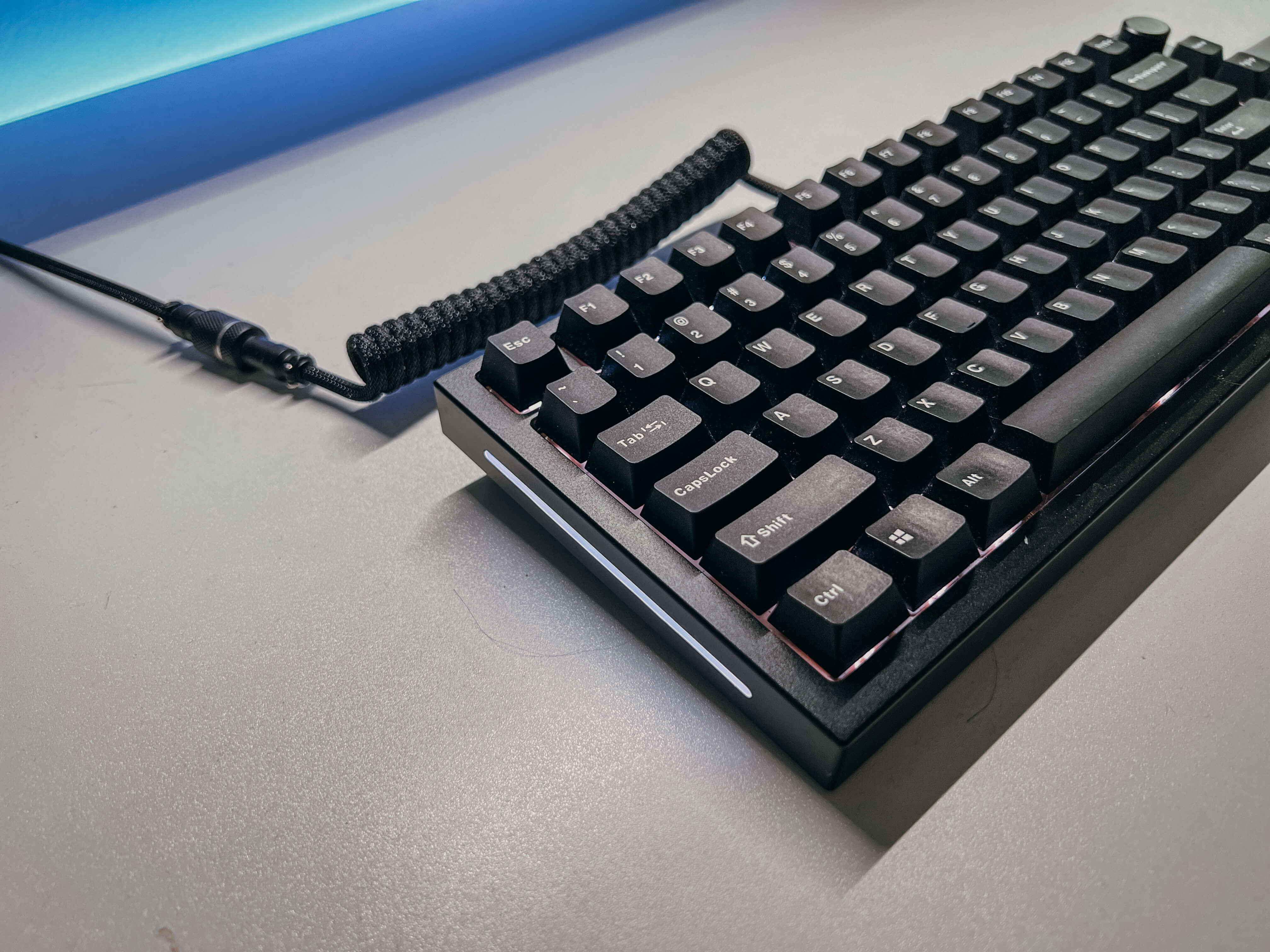 My keyboard is a GMMK Pro with Glorious Panda Keyboard Switches, Mistel Keycaps, and a Coiled Aviator Cable.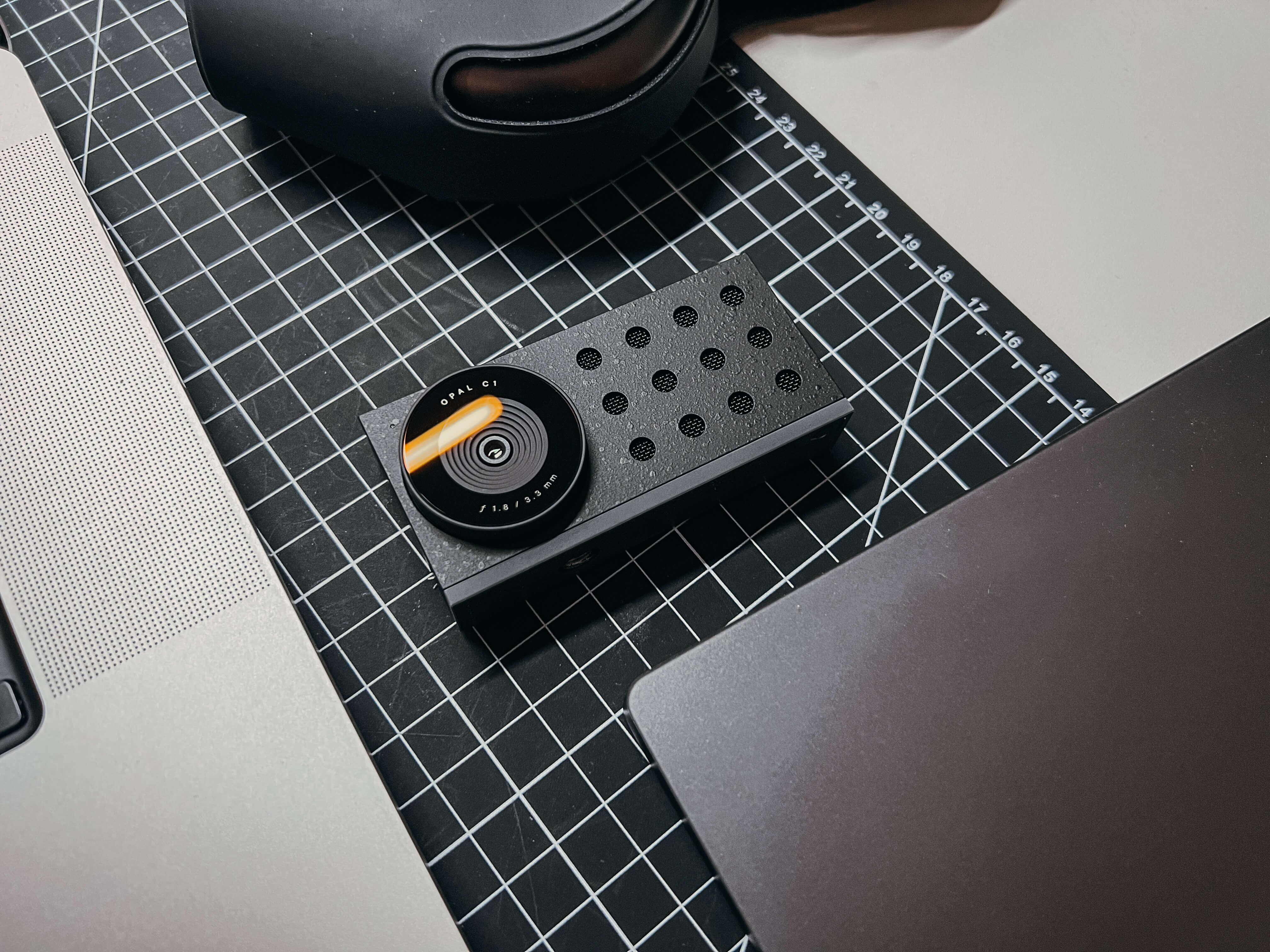 I also occasionally whip out an Opal C1 Webcam for video calls. Other pictured parts: Black Cutting Mat, Apple Airpod Max, Apple Magic Trackpad 2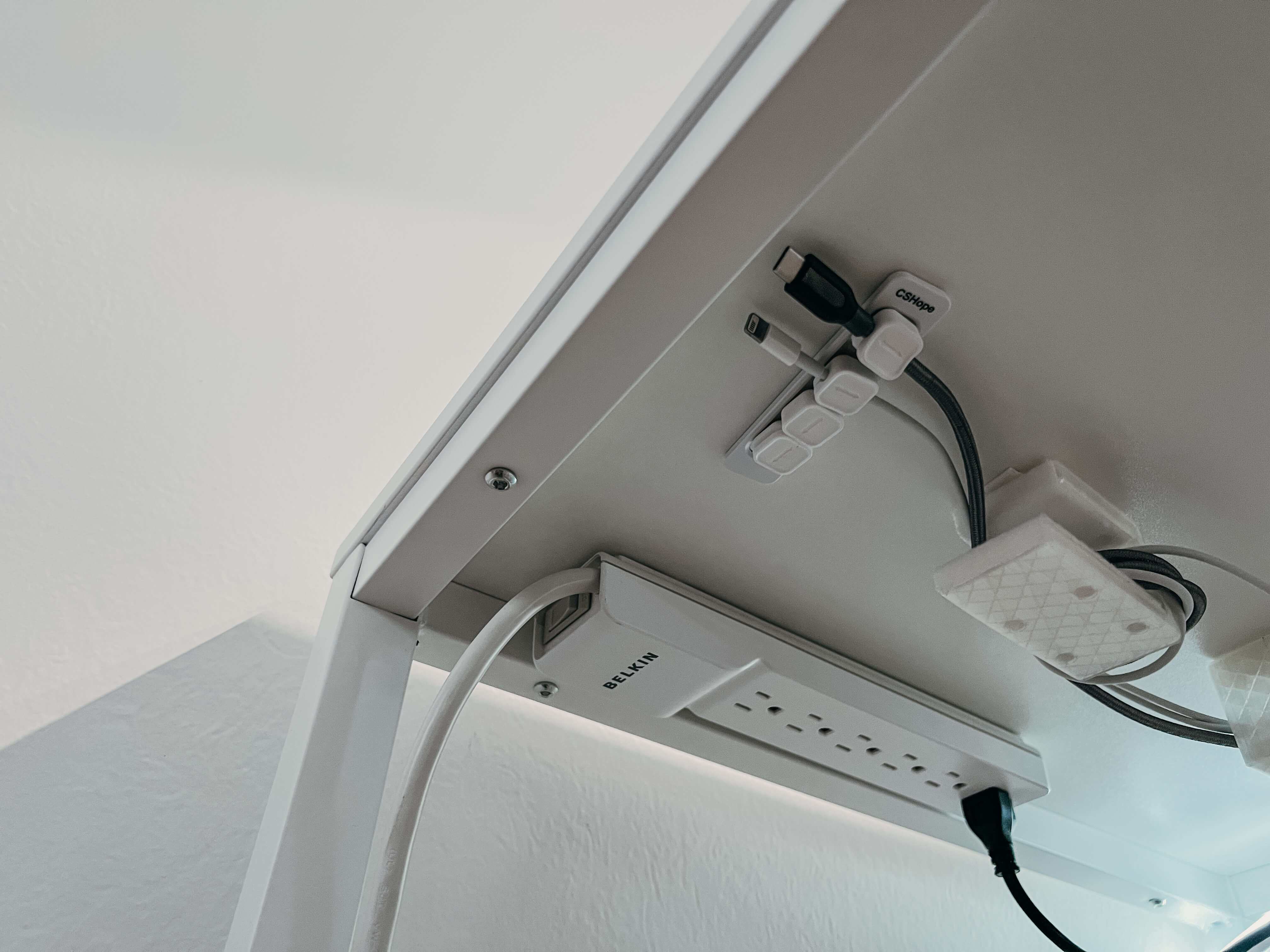 On this side, a Belkin Power Strip is mounted along the left edge using mounting tape for easy access, and I have two cables routed and magnetically attached under my desk using these magnetic wire organizers for easy acccess.
This is where I might plug in a PS5 controller for games, or charge my phone. Other parts: 6Ft USB-C Cable, 2m Lightning Cable, Anker USB Hub.
The Workspace Side
I use the right side of my desk to do things like build computers, use my laptop, or film. It's an open desk area with a swiveling lamp that clamps to the desk as to not take up any desk space.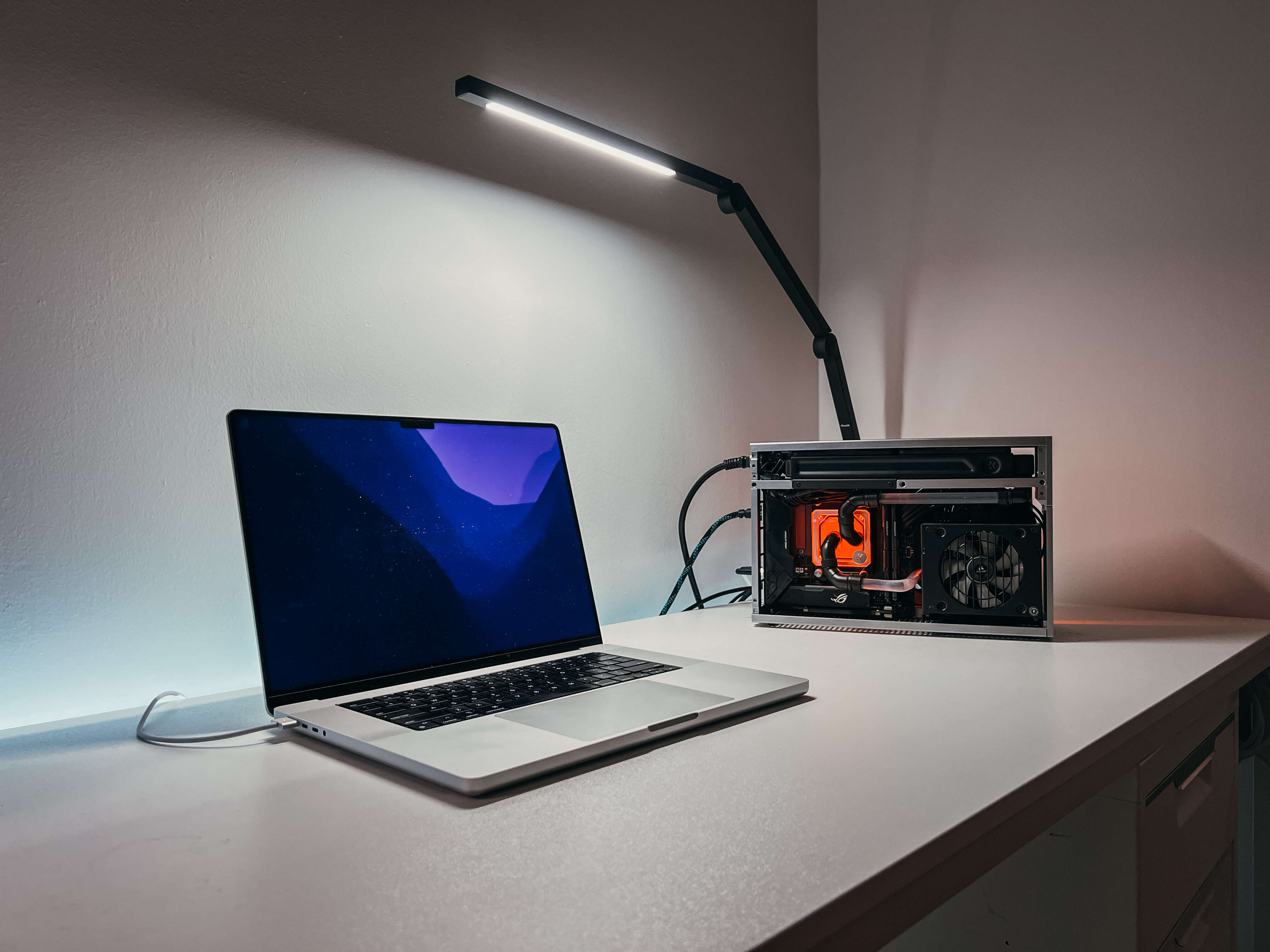 This is where I'll use my M1 Max Macbook Pro, build computers, or make things. Magnetic wire organizers attach the Magsafe charger to the side of my desk so it doesn't fall to the floor and isn't visible under the desk. Other parts: AmazLit Desk Lamp, Mini ITX PC (details to come in another post).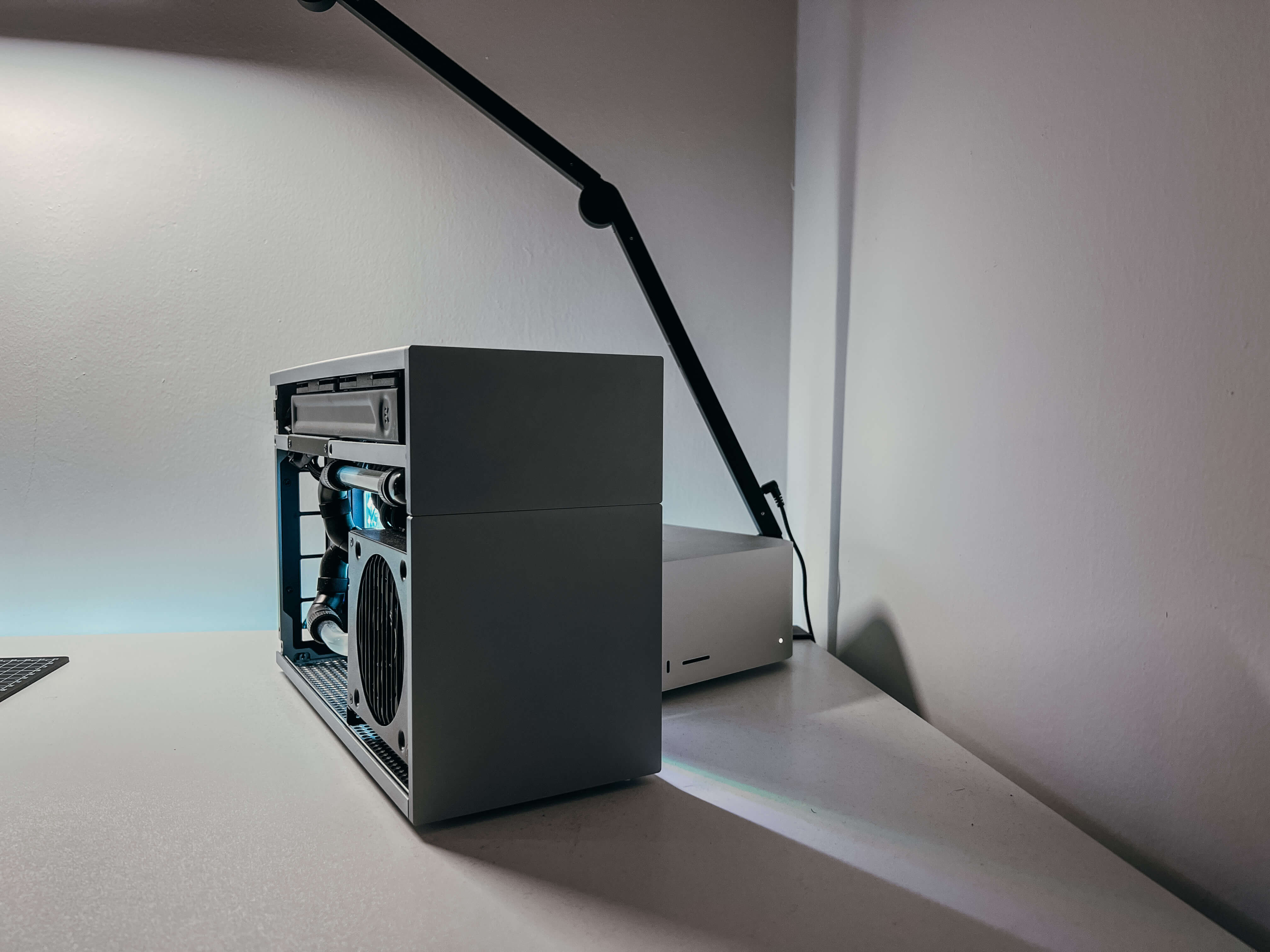 Surprise, behind my PC is a Mac Studio hidden out of line of sight. You'll never see it unless you look for it. The cables are routed all the way from my monitor along the edge of my desk, then shared between these two computers.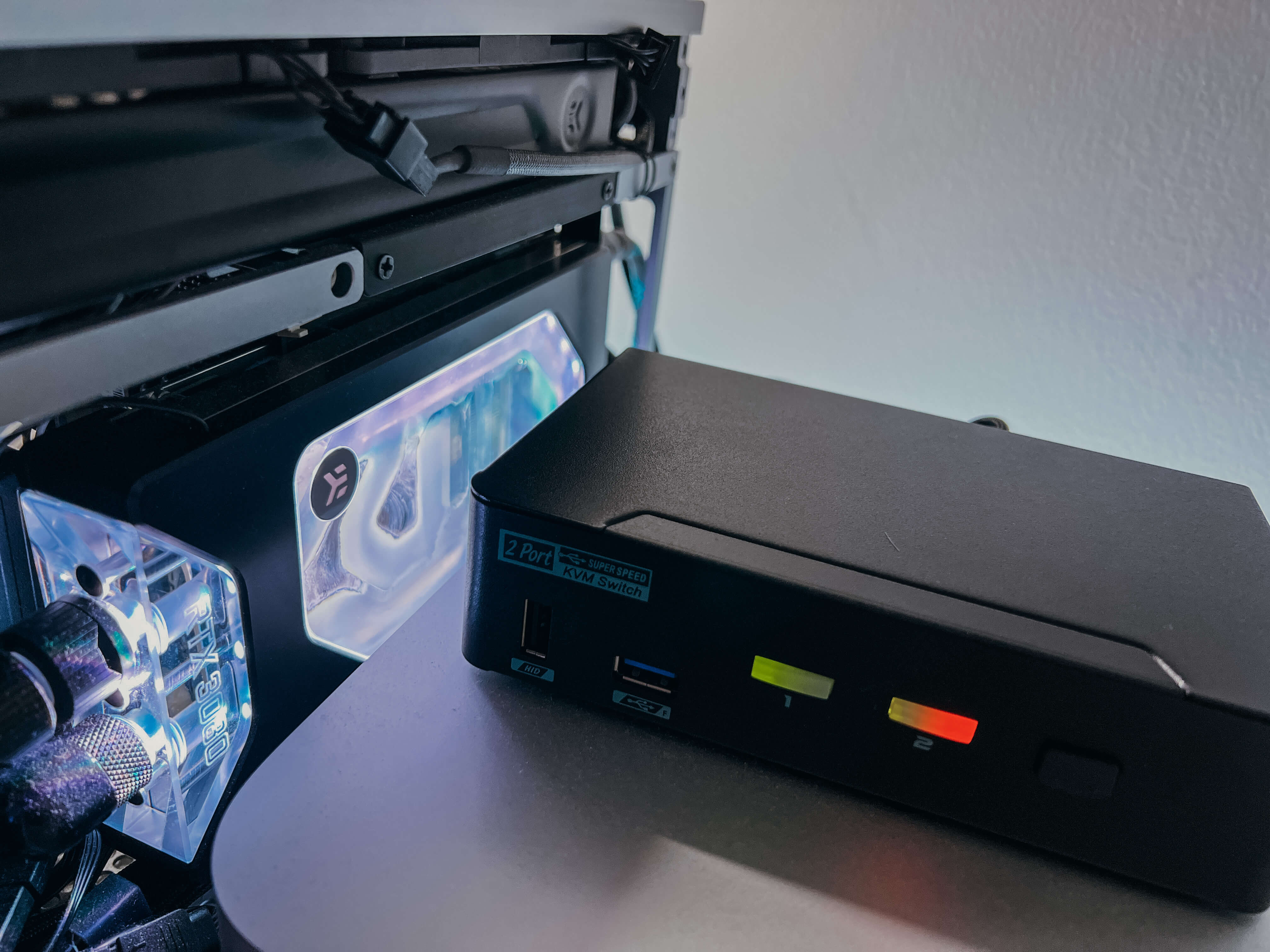 And, right above that is a a Level1Techs KVM Switch I use for switching my keyboard and mouse between my PC and the Mac Studio. I highly reccomend a peripheral switcher if you're working with multiple computers.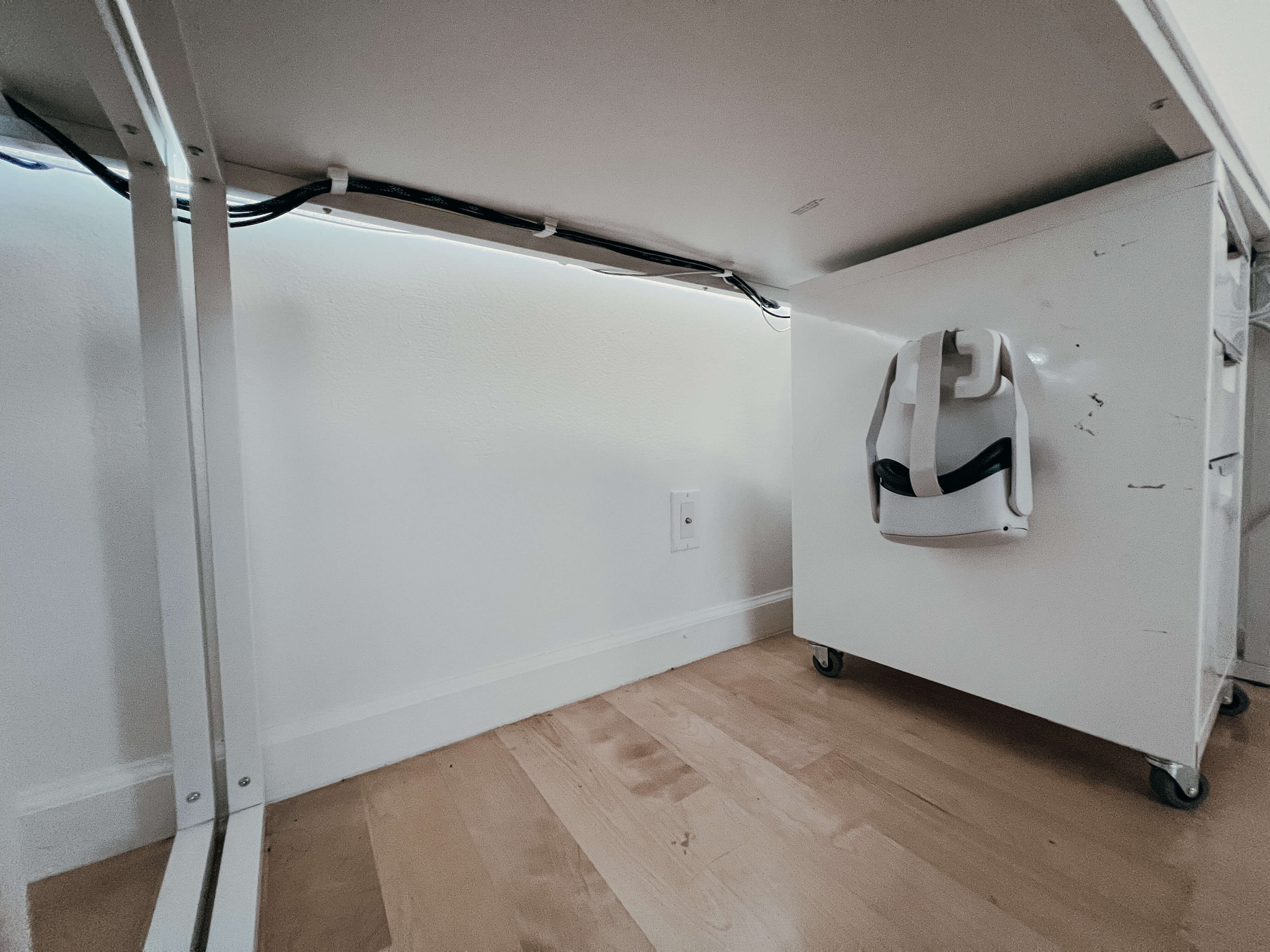 Underneath the work area, a white cabinet fits perfectly under my desk. Behind, you can see how I route cables and wires using these adhesive wire organizers. Attached to the white cabinet is a NZXT Magnetic Puck holding my Oculus Quest 2 VR Headset.
The power situation is similar on this side, with a Belkin Power Strip on the far right edge between the cabinet and the edge of the desk. This one however is mounted on a cable tray that is also attached with mounting tape.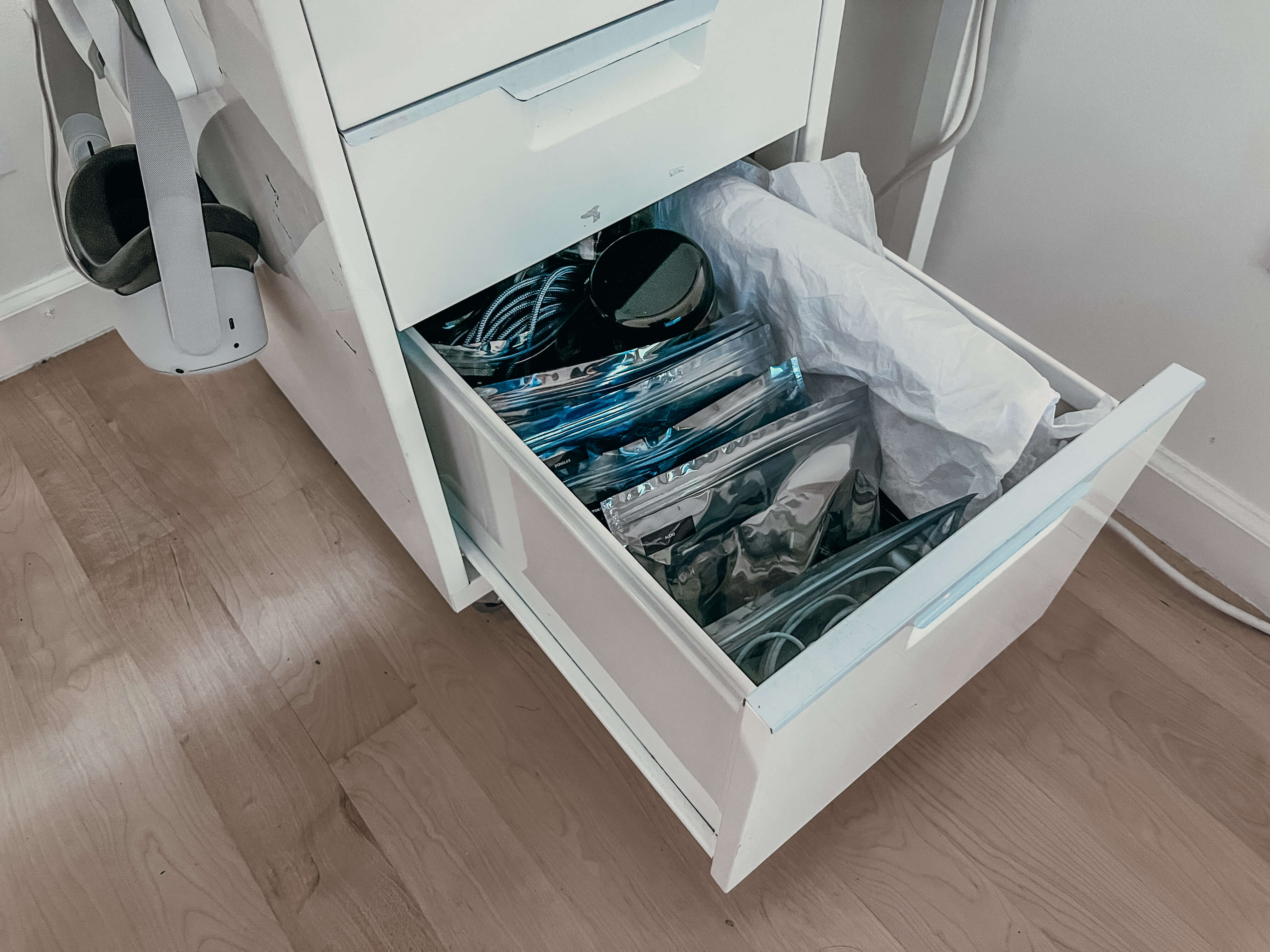 Inside the white cabinet sits my tools, gaming controllers, wires, and so-on. For cables, I have these anti-static bags that I mark with a Brother Label Maker for organization.
The Accent Lighting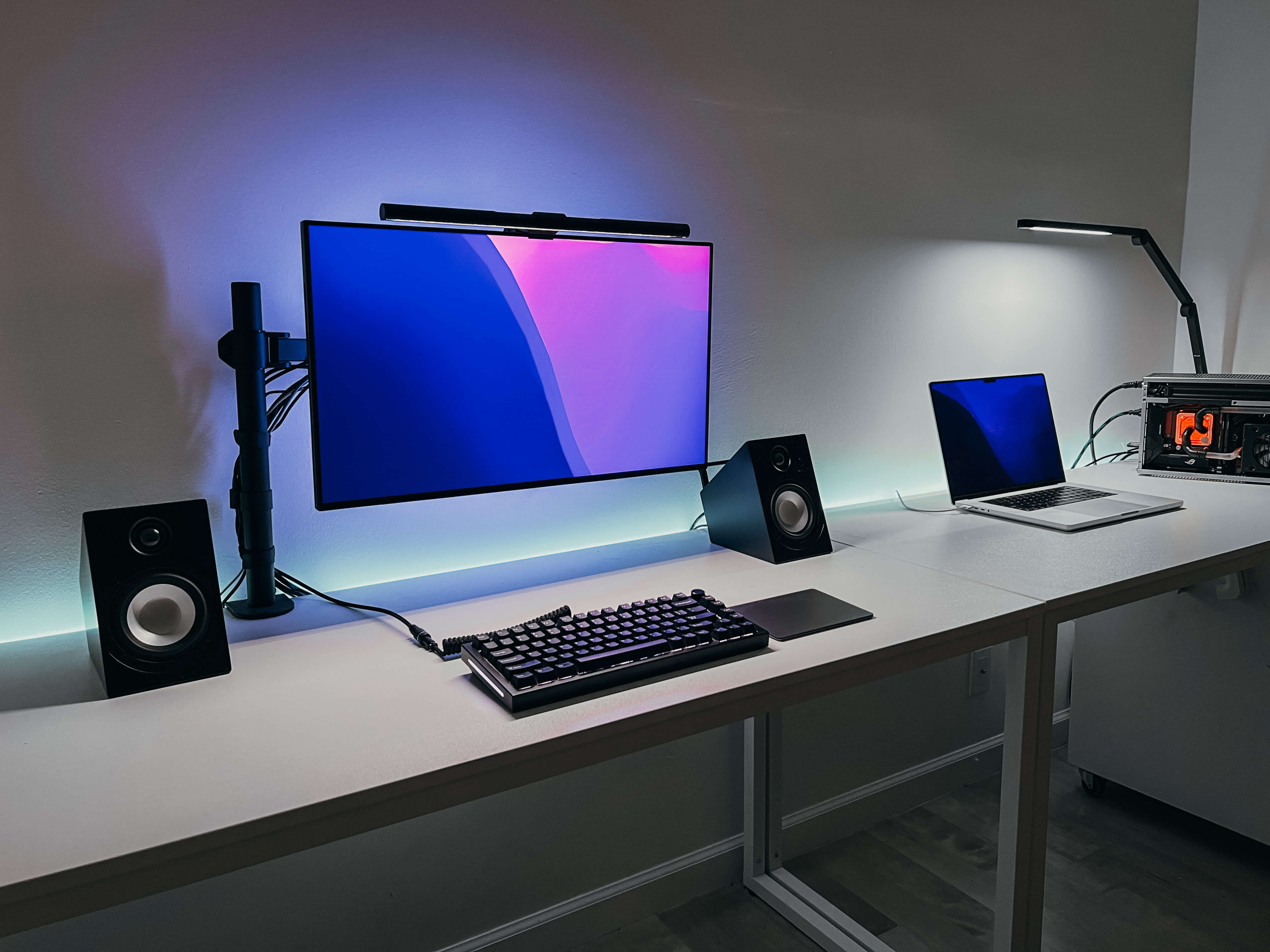 Let's talk about accent lightning. People seem to ask about this the most. For the wall lighting, my LG GN950 Monitor has a backlight built in behind it. Most people don't care about that though: you want to know about the the strip of light that runs along the desk.
For that, I did something more custom by magnetically attaching a LED Rope Light along the back.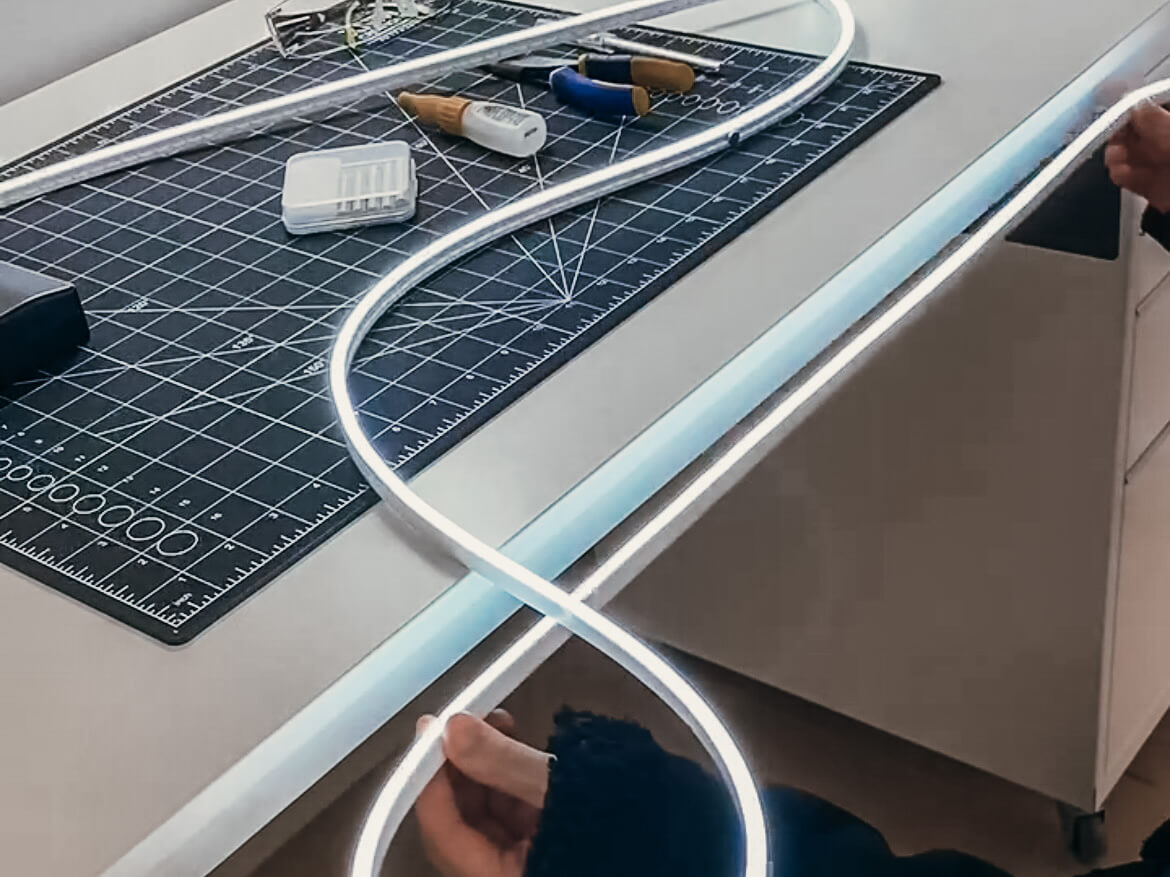 This is where I took advantage of the metal railing of the desk. The LED Rope Light is magnetically attached via superglued Magnet Discs.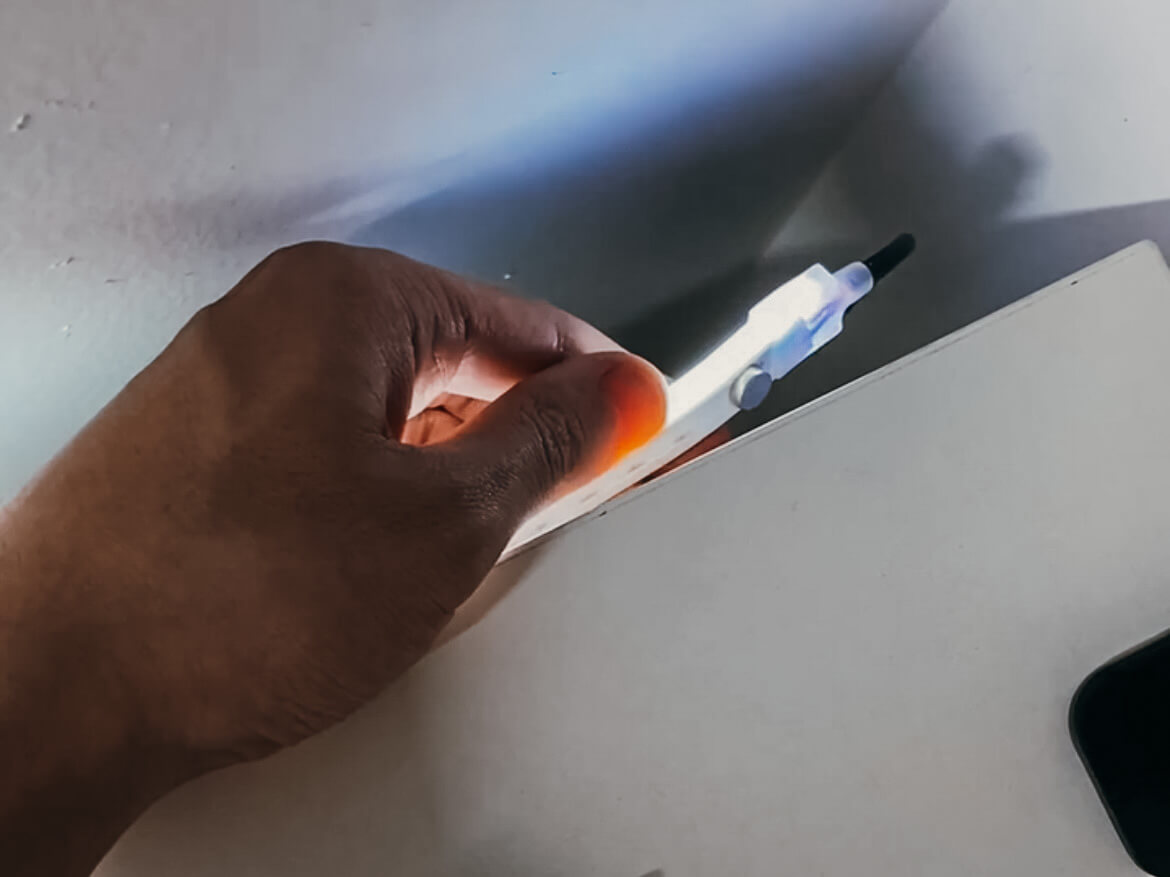 It snaps all along the edge, and the excess is hidden inside of a J Channel mounted under the desk.
And that's about it.
---
Closing notes on orderliness & messiness
There's an annoying response you'll see to clean desks. A gut reaction along the lines of
"Clean desks are stupid. You can't get stuff done on a nice desk. Good work only gets done on disorganized, messy desks."
Nonsense. This doesn't hold up if you've seen enough workspaces. To draw from other industries: think of great ateliers, kitchens, labs, or even factories. Most of them are clean when they aren't in use, and messy when they're in use. Having a clean space doesn't mean it doesn't or shouldn't get messy. Or that you're limiting your creativity and can't toss shit around it. That's pure cope.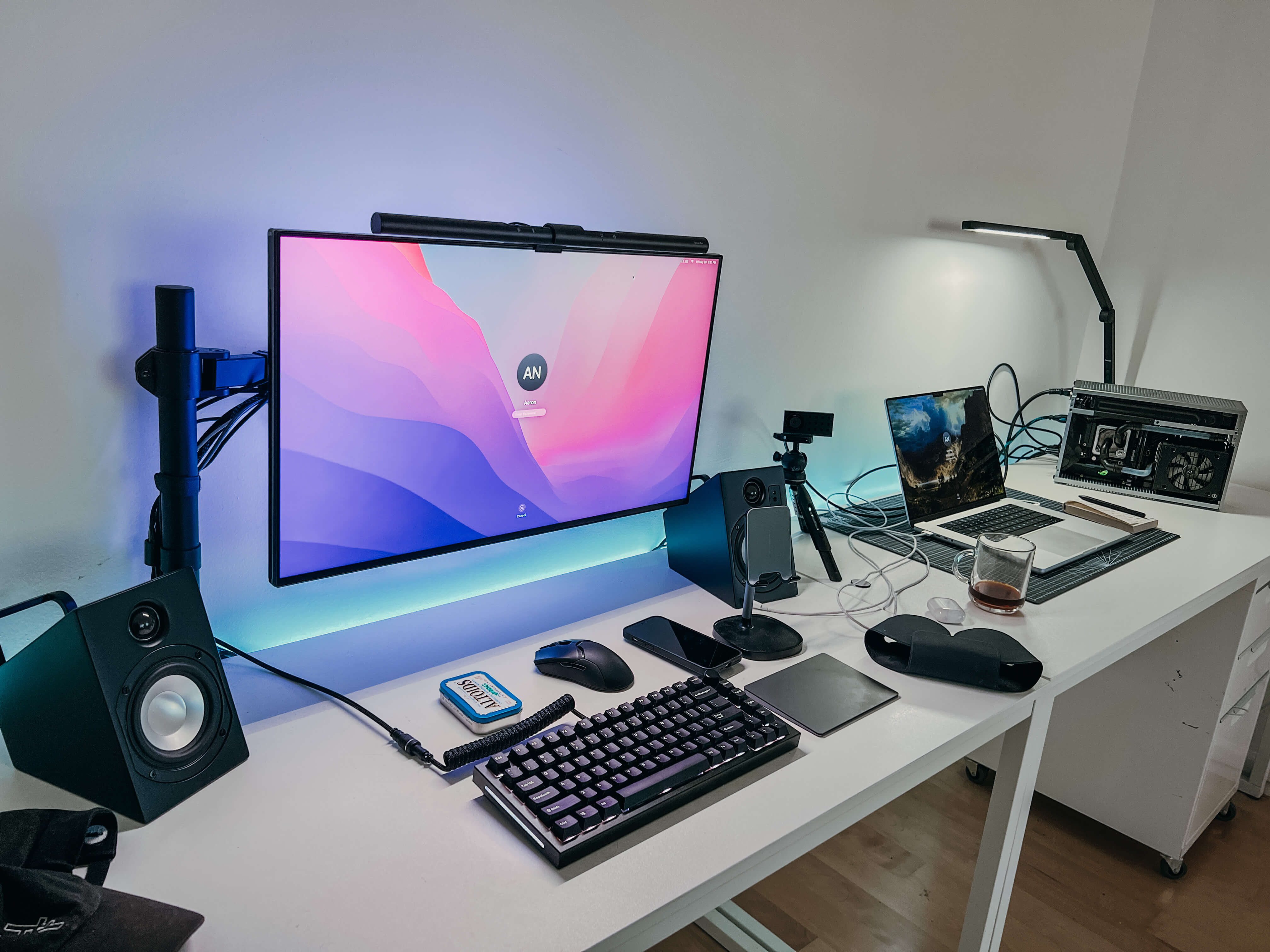 Used desk.
You use and reset your space the same way you clean your room, your kitchen, or your house. So design a space you're excited to be in, mess it up, and clean it up when you're done. ✌️
---
If you've got a workspace you're working on, I'd love to see over at @localghost on Twitter. If you'd like to see more posts from me, you can sign up here for an occasional recap of my posts.
Links